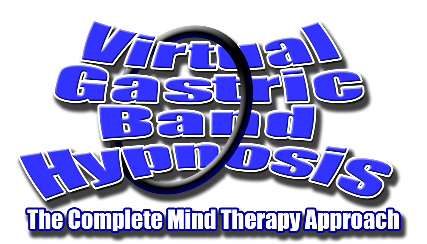 Developed by some of the leading experts in Hypnotherapy, Virtual Gastic Band Hypnosis (The Complete Mind Therapy Approach) is a weight loss program for those who have a severe obesity issue.
With effects similar to a surgical gastic band, a VGB limits the amount of food consumed, but without the invasive hospital procedure.
Under Hypnosis (rather than anaesthetic) you will be taken on a journey in your mind, of having a band fitted around your stomach, which will make your brain believe you are full and satisfied, with far less food.
To ensure your safety, there are various criteria (including a BMI check) that clients must fulfill and not all clients qualify for a Gastric Band, but this is easily checked during a free telephone consultation.
The Advantages of a Virtual Gastric Band
No Hospital Appointment

No Time off Work
No Invasive Surgical Proceedures, or the risks associated with infection etc.
The Fast and Pain Free Weight Loss Solution
Limit the Intake of Food whilst still feeling Full and Satisfied
Start seeing results immediately
Only four sessions
Additional Motivational & Feel-Good Therapy
When you have reached your ideal weight, the gastric band "dissolves"
Continued monitoring of your progress
Email and phone support throughout.
CALL ME TODAY ON 075 265 00 312 FOR MORE INFORMATION